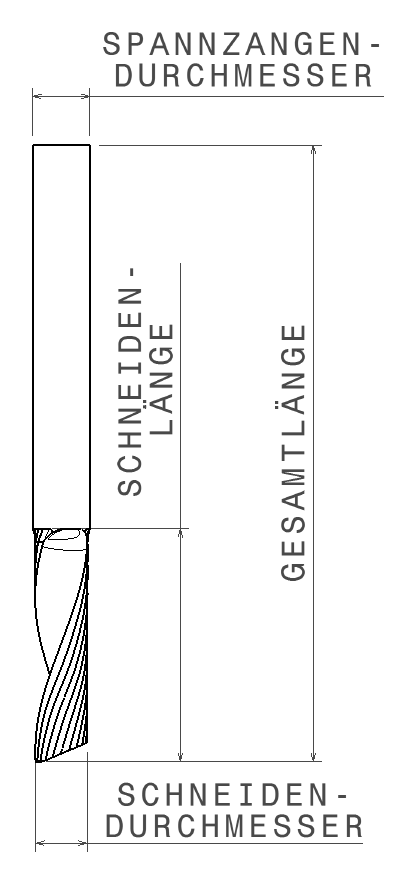 Collet
Cutting edge –
diameter
Cutting Edge –
length
Total –
Length
MINImill 1.0
3.175mm
1
3
38
MINImill 1.5
3.175mm
1,5
4
38
MINImill 2.0
3.175mm
2
6
38
MINImill 3.175
3.175mm
3.175
12
38
MINImill 4.0
4mm
4
17
45
MINImill 6.0
6mm
6
17
50
All dimensions in mm
Aluminium
Collet
Depth per pass
Feedrate
Speed
MINImill 1.0
3.175mm
0,2
250
25000
MINImill 1.5
3.175mm
0,3
300
25000
MINImill 2.0
3.175mm
0,4
350
25000
MINImill 3.175
3.175mm
0,5
500
25000
MINImill 4.0
4mm
0,6
800
25000
MINImill 6.0
6mm
0,8
800
25000
We recommend a mist lubrication system for aluminium milling as it extends the lifespan by 10x. Alternatively you can lubricate the milling process with a lubrication spray.
Cutting paramters & Videos
We have tested all the cutting parameters on our MINImill KIT2 with the 1000W Mafell FM 1000 spindle. We do not recommend aluminium milling with the 300W spindle.