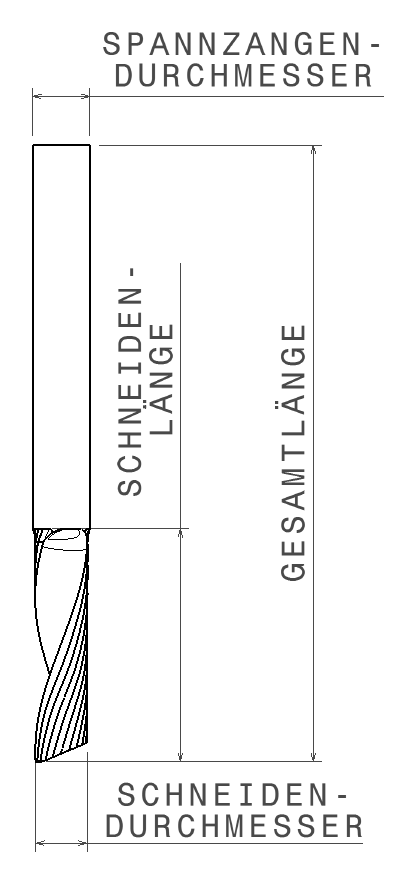 Collet
Cutting edge –
diameter
Cutting Edge –
length
Total –
Length
MINImill 1.0
3.175mm
1
6
38
MINImill 1.5
3.175mm
1,5
6
38
MINImill 2.0
3.175mm
2
10
38
MINImill 3.175
3.175mm
3.175
17
38
MINImill 4.0
4mm
4
17
45
MINImill 6.0
6mm
6
25
50
MINImill 6.0 XL
6mm
6
52
85
All dimensions in mm
Wood
Plexiglas
POM
Collet
Depth per pass
Feedrate
Speed
Depth per pass
Feedrate
Speed
Depth per pass
Feedrate
Speed
MINImill 1.0
3.175mm
0,5
250
25000
0,5
180
25000
0,5
300
25000
MINImill 1.5
3.175mm
0,75
500
25000
0,75
400
25000
0,75
600
25000
MINImill 2.0
3.175mm
1
600
25000
1
450
25000
1
650
25000
MINImill 3.175
3.175mm
1.6
900
25000
1.6
450
25000
1.6
1500
25000
MINImill 4.0
4mm
2
1200
25000
2
450
25000
2
2000
25000
MINImill 6.0
6mm
3
1500
25000
1
450
25000
3
2000
25000
MINImill 6.0 XL
6mm
1
1500
25000
1
1000
25000
The endmill MINImill 6.0 XL is perfectly suited for styrofoam. We have tested this endmill uo to a depth per pass of 20mm, feed rate 2000mm/min and 25000 rpm. .
Cutting paramters & Videos
We have tested all the cutting parameters on our MINImill KIT2 with the 1000W Mafell FM 1000 spindle. Please reduce the parameters by around 1/3 for the 300W spindle.