MINImill
The qBot MINImill is supplied with the following parts:
A PCB-milling starter kit, containing: a PCB bracket, a basic PCB milling bundle, some PCBs, so you can get started right away.
Two wrenches for locking the collet nut, a manual explaining how to get the most out of your MINImill
Dimensions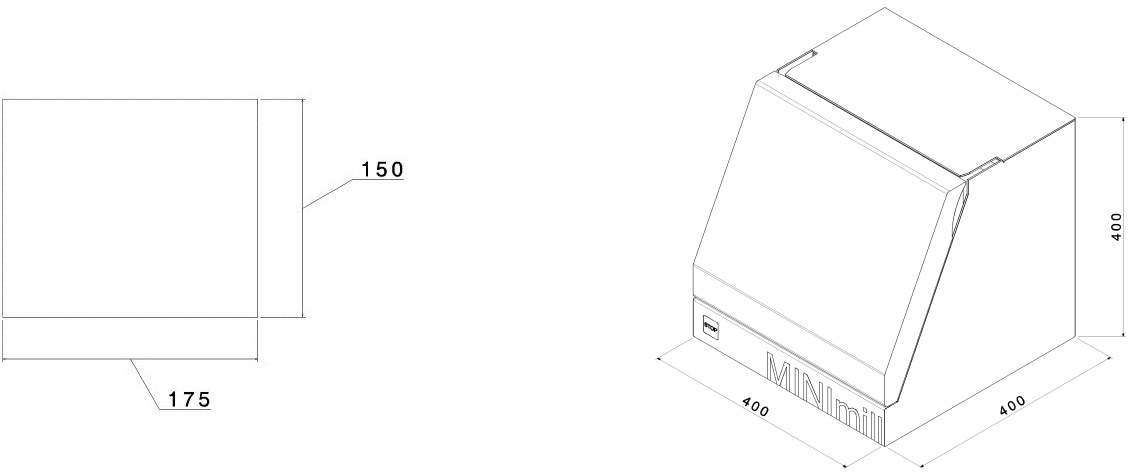 Machine size: 400x400x400mm
Work table: 260x160mm
Work area: 175x150x65mm
The worktable is made of industry-grade aluminum, giving you a great surface to fix your project to, while being almost perfectly flat.
You can use standard t-nuts (size 8), which -of course- are included with the MINImill- to fix your projects to the worktable. MINImill also offers some M4 screw points, which are firmly connected to the worktable, to give you an even better experience, and more security. They also offer a unique way of electrically connecting your project to the MINImill, and enable you to measure the surface of conductive materials.
Spindle
200W DC spindle with 12000rpm
ER 11 collet, 3.175mm collet
The high-power, 200W spindle motor has enough power to mill through a wide range of materials, even when you use a bigger endmill. The Spindle has a very low runout, which is essential if you want to mill very precise parts, and to ensure that small endmills and drills (< 0.5mm) do not break during operation.
Materials
The qBot MINImill is made and tested for a wide variety of materials:
Wood, for nice looking gadgets and enclosures
Plastics, for more functional parts
Acrylic, for transparent or translucent projects
Modelling-foam, in different strenghts, depending on what you want to make. From casting, to vacuumforming and even aluminum-forming, all the forms you need can be made with the highest precision on a MINImill.
Circuit boards (FR1, FR2, FR3), to make development of new products eaysier and a lot faster, MINImill is capable of milling single- and doublesided layouts down to small SMT-devices like 0603 resistors
If you need inspiration, or just want to check out projects that other people have already made check out our Instagram-page.
Axes
1204 ball screw with direct drive
hardened 16mm steel shafts with linear ball bearings
up to 2500mm/min
The MINImill uses direct-drive for all axes, thus ensuring the highest positioning accuracy. The hardened 16mm steel shafts provide ample stability. The sturdy frame, consisting of aluminum-compound and automotive-grade steel keeps everything in place, and reduces noise and vibrations to a minimum. This was a high priority for us during development, so the MInimill would be silent enough so it can be used in an office- environment.
Precision
Repeatability: approx. 1/100mm
Motor resolution: 0.00125mm/step
Workarea flatness: +-0.1mm or 0.1 ‰
The numbers above specify some real-life- specifications that we have measured on a different MINImill, in different environments.
Of course it always depends on how you set up the MINImill. If you have difficulties imagining what these numbers mean for your specific usecase, just ask us. We are always glad if we can help, and communication with our customers is very important for us.
Electronics
MINImill uses an Arduino Uno with the awesome "GRBL" open-source machine controller
The 350W internal power supply can be used in 230v and 110V systems, so the MINImill can be used not only in one country, but everywhere!
MINImill is safe to use. The main-power switch disconnects it from the grid, and the fuses protect it in case of a failure.
Software
We recommend our free MINImill Software, which includes a Slicer for PCB (.gerber) and 2D/3D files (.dxf, .stl).
However as our MINImill runs on GRBL it can be controlled by any GCODE sender which works with GRBL. Just check out their GitHub-page, they have some recommendations there.
Price: 3990€ VAT included, Machine currently available in Austria.